Here are some examples of door locks and handles. I know in the thief series the handles were always pointing down, but all the historical examples I could find had them sideways. Does that create undue stress on our modelers, or can they be easily mirrored?
My idea was to have different shapes for different difficulty levels. A simple lock would be a basic square, and difficult locks would be fancier. There could be several different textures for each model as well to indicate even more difficulty levels. Ideally, I would like locks that look the same to have the same auditory 'pattern' so that players can learn to judge how difficult a lock is by sight.
I would think perhaps four or five different model types, with 3 textures each, would give enough variety.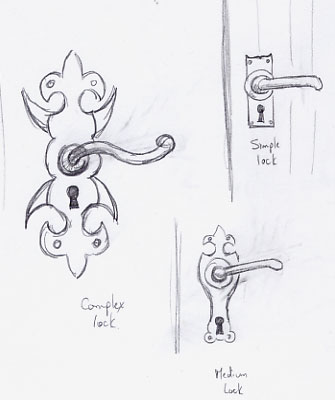 BTW, in T1/2, the jiggling of the doorhandle told you how close you were to success. But how did chests work? I can't remember what visual indicator (if any) they used.