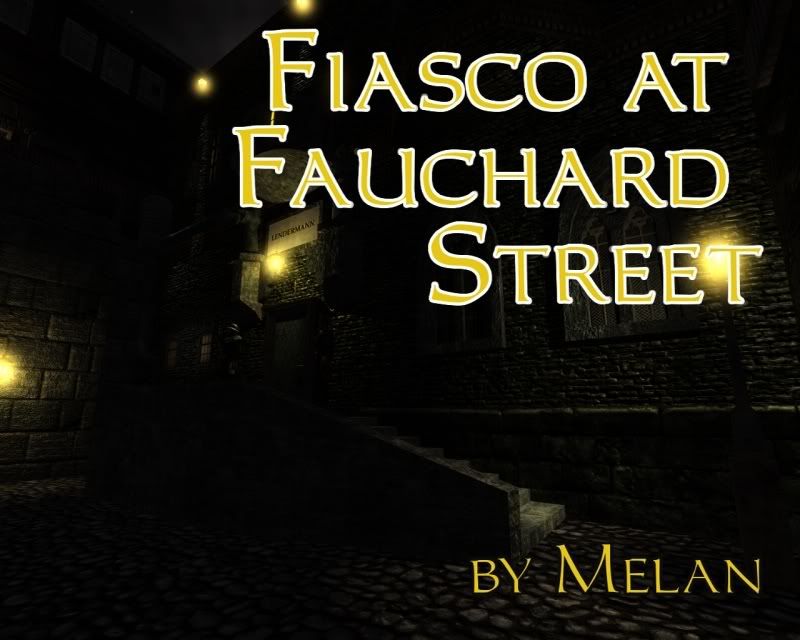 Fiasco at Fauchard Street is a small/medium-sized fan mission whose original purpose was to illustrate the virtues of speedbuilding and using simple, newbie-friendly construction techniques to create architecture that nevertheless looks nice and offers a good playing experience. The process and the experiences are detailed in the Editor's Guild thread; over time, the mission grew by about 30% from the initial concept, but also came to include some new content/ideas. I would like to thank my betatesters, whose work has been invaluable in the mission's completion: Bikerdude, Premier and Sotha.

Briefing:
"Today, my contact Marchand has brought me news of a lucrative opportunity. Turns out there is a man living on Fauchard Street named Lendermann. His business is credit, but long gone are the days when he was just one of the usurers plying their trade in the poor districts of the City. Lendermann has risen in the world, and fancies himself a creditor for merchants, even nobility.

His house, once a ramshackle place close to a factory, has been refurbished with precious materials and furniture to prove once and for all he has made it. And his latest acquisition, a pouchful of opals, is too valuable not to attract attention sooner or later. Indeed, it is time to pay him a visit.

Lendermann knows this as well, and he has reputedly hired new guards to watch his place day and night. A frontal approach will be complicated, maybe even impossible. But every house has multiple ways in - and where the front door does not yield to a talented thief, another surely will. I will have to be careful, since I have very little equipment, and have even misplaced my rope arrows in the commotion of the tavern.

But this will have to be a quick job, since who knows how long it takes for the news to spread through the underworld, and how soon someone else seizes my opportunity - or stalks me to deprive me of my winnings on the way home... Marchand, reliable as he is, has a crucial flaw: for the life of him, he cannot keep his mouth shut. Better let him brag of a successful heist than a missed opportunity."

Download Links:
MEGA (14 MB)
...and the mission downloader!

Notes:
There is a player map in your inventory. Use it for navigation if you have trouble finding your way.
There are a lot of places to find loot; some easier than others. Your objectives can also be reached in multiple ways.
If you are interested in the lessons from the building process but don't have time to read the whole Editor's Guild thread, I summarised my experiences in this post. This also contains several prefabs (premade pieces of architecture) I used in construction that may also be useful for your purposes.
There is no poll to rate the mission because it is not a contest FM, and I do not believe in polls. Your comments are welcome in writing, however!
You will need your TDM install updated to at least 1.05 to play this mission.
Series information: All of my missions except Unbidden Guest (TMA) take place in a common setting and involve the same protagonist, although under different aliases - Talbot, Messer Johannes, Philby and others. None of them require previous knowledge of previous FMs, but there are common elements and a degree of continuity. The missions, in current order, are:
Prowler of the Dark (TDP/Gold) (S): liberate a skull of paganic enchantment from an abandoned church, which is kept sealed and guarded by the Builders.
Return to the City (The Dark Mod) (M): plunder the other side of the Builder complex to steal a pack of explosives. Patrols have been heightened because of the recent break-in. (This mission connects to the previous along the North/South axis - too bad I didn't have the time to let you revisit some old areas)
Fiasco at Fauchard Street (The Dark Mod) (M): steal a collection of opals from the house of a wealthy usurer. (You are here!)
Bad Debts (TMA) (XL): fallen on hard times, you take a job from a diminutive snitch to steal his letter of debt from Markus, a pawnshop owner/usurer (looks like a common theme). Rooftop extravaganza.
Disorientation (TMA) (XL): following the events in the previous mission, you attract the unwanted attentions of Lady Azamlarg, district warden and judge, and have to break into her palace to deter her from further assassination attempts. More rooftops and conspiracies.
1.1 note: This mission has been released in an updated version. This update contains smaller gameplay and aesthetic fixes, and cuts down on file size by removing duplicate assets which have been incorporated into the TDM core since the mission's release (14 instead of 62 MB!). Thanks are due to my betatesters for this new version, Bikerdude, lowenz, nbohr1more and Oldjim.
Edited by Melan, 15 September 2015 - 02:09 PM.
Added download link