I'm sure everyone has seen this by now:
http://www.amazon.co...ocId=1001928521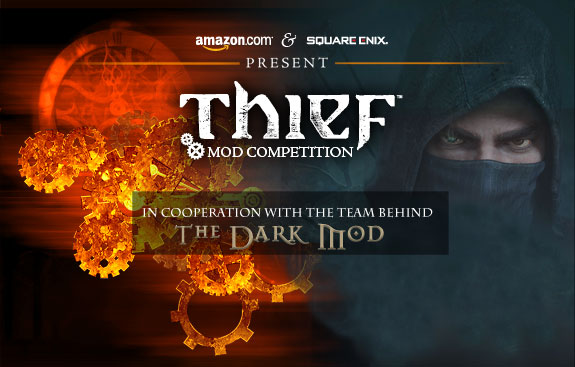 The timing of the contest announcement caught us by surprise, so we weren't able to confirm out involvement immediately. But yes, the contest is legitimate and The Dark Mod is a part of it.
Contest FAQ
This FAQ is based on the information I was given in conversations with Square Enix. Not all of it has been reflected in the contest rules posted thus far. Until it is confirmed in writing, you should accept this information at your own risk.
Why is The Dark Mod involved?
The Dark Mod was born in the Thief community, and was created and supported by Thief fans. If something is good for the Thief community, then The Dark Mod is happy to be a part of it. And what could be better than something that celebrates the terrific talent and passion of mission authors and modders (not to mention giving them cool prizes)? It's also nice to have The Dark Mod officially recognized by the owners of the Thief franchise.
Can I enter a mission for The Dark Mod into the contest?
Yes. You can use any Thief platform (T1, Thief Gold, T2, TDS) as well as The Dark Mod. If you're entering the "If I Could Mod, I Would Create" category, you don't even need to use a platform at all. Just share your great idea!
Do I have to use Thief: Gold for the contest?
No. You can download Thief: Gold for free, but you don't have to. Even if you download it, you don't have to use it for the contest. Consider it a free gift from Square Enix.
Why can't people outside the US enter?
I agree that's unfortunate. The Thief community is world-wide. As far as I know, the limitation is due to the involvement of the US division of Amazon, who is providing a lot of the prizes. It seems that different divisions of Amazon support contests only in their own regions. There may be future announcements on this point, however.
So can I use The Dark Mod to create a Thief mission?
The Dark Mod has always been careful not to use any IP belonging to Square Enix. However Square Enix has agreed in conversations with me that they are allowing people to use Thief IP in The Dark Mod for the purposes of the contest. However, until this information is reflected in writing we will continue our policy of not endorsing, supporting, or hosting TDM missions that use Thief IP. Note that you can enter the "If I could mod I would create" category without creating anything at all, so copyright questions would not apply.
So how do I enter the contest then?
You don't have to download Thief: Gold. First, you should decide which category you want to enter: "Look, I made a Mod" or "If I could Mod, I would create". If you're doing the second one, all you need to do is make a short video pitching your cool idea. The more creative your pitch, the better.
If you're entering the first category, then you need an actual mod/mission to showcase in your video.
Can I enter something I have already done?
Yes! You do not have to create something new for the contest (although you can). The contest is to celebrate the talent of the Thief community, and that includes things that have already been created.
How are the winners determined?
We'll need to wait for more details about this. I know Square Enix originally wanted the community to vote for the winners, but they had to work out the details with Amazon. Some press releases are stating that The Dark Mod is involved in the judging, but this is NOT correct. If there is a community voting process then we will be a part of that, but members of The Dark Mod have no privileged role in judging (which also means we are not barred from entering, as currently stated by the contest rules).
Does this mean The Dark Mod is endorsing the new Thief?
The Dark Mod doesn't have an official position on the new Thief game. But my personal position is that any game that has the potential to create new fans of first person stealth gaming is a good thing for us.
Why should I enter the contest?
Well, aside from the ability to win some pretty cool prizes, your contest entry is basically a promotional video for your mod or mission. It's free advertising. And if it's a TDM mission, it's free advertising for us as well.
=====================================================================
Here are some links about the announcement:
http://www.pcgamer.c...ng-competition/
http://news.softpedi...es-428148.shtml
http://www.girlgamer...e/article/3215/
http://www.gamenguid...new-contest.htm