I'm happy to announce the release of A Reputation to Uphold.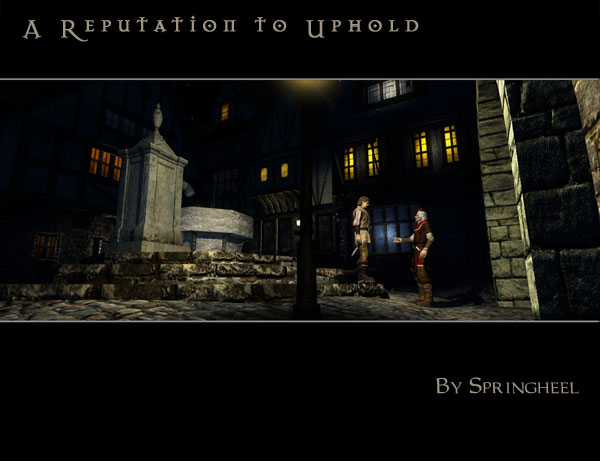 This mission continues the story of the thief Corbin, as he deals with the consequences of his actions against Sykes in A Score to Settle (though it is not necessary to play that mission first).

This mission was meant to be a speed-build, and relies heavily on prefabs, both existing ones and ones I created. Build time turned out to be about three months.

I tried to do something a little different to increase the replay value of this mission. Instead of typical difficulty levels, there are three different gameplay styles, each of which present a unique challenge. I'd like to think it's worth playing all three, but don't start with "Timed" first, as it's the most difficult.

Special thanks: grayman for help with many problems; Goldwell and Narrator for additional vocals; Sotha for his lean and urinate animations; Flanders, Skacky and Bikerdude for map elements; Bikerdude, Airship Ballet, Xarg, Araneidae, and Goldwell for beta-testing, and to Melan and everyone else who contributed prefabs to TDM.

Note: the Break-in difficulty introduces a slightly different style of gameplay; your lightgem is always 4 levels higher than normal, which means nearby ai can see you even in total darkness. You'll need to use cover and distance to remain undetected.

Download here:

http://www.mindplaces.com/follow.pk4
edit:  please make sure you have Version 2 installed.  This version fixes a mod issue that caused the mission to end too early if AI were alerted early in the mission.