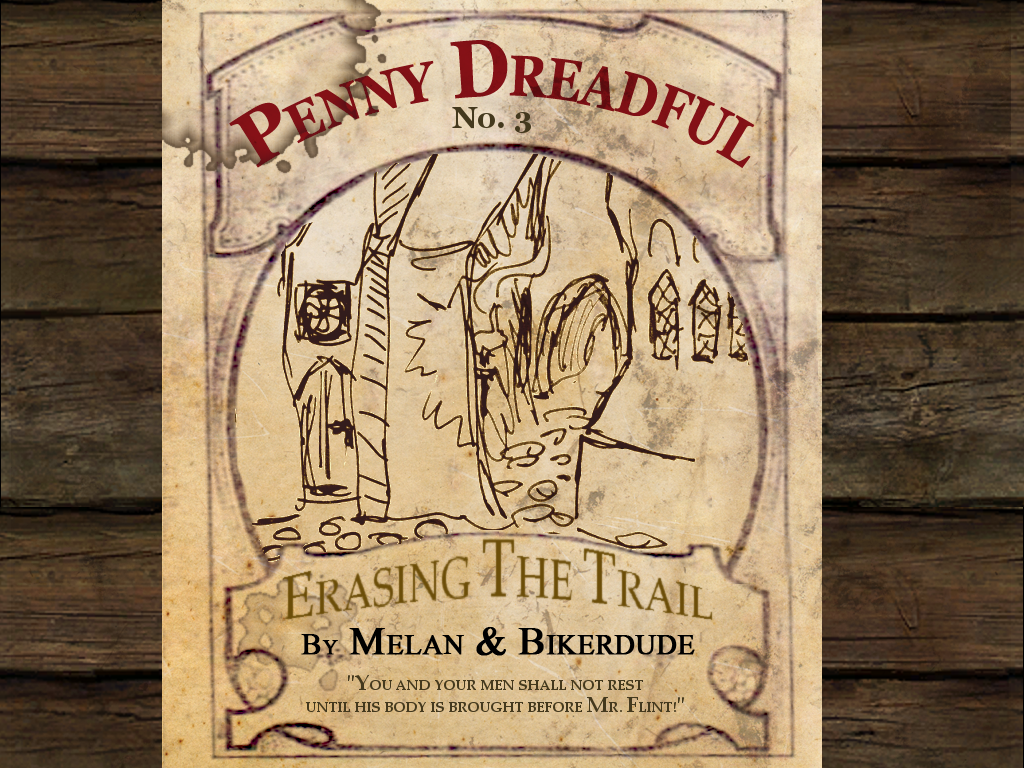 By way of introduction, Penny Dreadful is a fan mission series dealing with the exploits and misfortunes of Gerald Foxley, lowlife and common opportunist. To stick with the theme of lurid and disreputable pulp literature, these missions were planned to be nasty, brutish and short, which sort of worked in PD1, was not entirely working in PD2, and went out the window with PD3, which ended up much bigger than I ever expected. The series also allows me to experiment with gameplay ideas which do not completely fit TDM standards: Foxley is slightly worse at stealth than the TDM baseline, and can't pick locks: you will need to find different ways of getting into places.
In the first episode, The Grail of Regrets, what started out as a routine case of extortion ended with Gerald in the possession of the eponymous Grail. In the second, All the Way Up, these newfound fortunes proved to be shorter than anticipated, as Messer Montrose, a corrupt nobleman, and his ally, the local Bailiff conspired to rob Foxley of the prize to further their own ends. The Grail is now in the hands of Archibald Flint, a powerful crime boss ruling from a mansion on Fiddler's Hill, an infamous den of thieves. However, to get close to him, Foxley has to remove a few obstacles in the way...
Erasing the Trail
"Kill a man and take his life; wound him, and restore his pride." -- alleyway proverb.
"In a city where every window is an eye and every doorway a whispering mouth, it is hard to keep a secret. When I learned of crime lord Archibald Flint's involvement in robbing me of the Grail of Regrets, I knew I'd have to strike quick, and strike first. But I failed.
By the time I got near his place on Fiddler's Hill, every gate to his hilltop mansion was locked, every alley patrolled by thieves eager to kill. Two days later, I watched my tenement go up in smoke and flames. The hunt was on, and it wouldn't be over until they'd have their quarry dead or captured.
Flint's main enforcer is a man named Grunt, known to communicate in written orders after his throat was cut in some altercation... a real bloodhound. I will have to deal with him one way or another to get the heat off of my back, and allow me to reach Flint himself...
Flint is also looking for my dead body, and I'm planning to have it delivered right to his doorstep. Another underworld figure, Almsmaster Quandt, lives a few streets from Grunt's mansion, and he is said to be my spitting image, an uncanny resemblance. Wonder if Flint will recognise the difference... well, time to find out.
Sometimes the only way to deal with a hornet's nest is to kick it over. This night, I am back in the middle of it. I have already run into a pair of sentinels, but I slipped into a small garden and jammed the lock behind me with a bit of wire. Hope they don't raise the whole neighbourhood, or this will be over real quick. Time to get moving."
Download links:
***Performance warning***: as usual, this mission pushes the limits a bit (although less than PD2). The hardware requirements exceed the TDM baseline, and the loading time is fairly long. Optimalisation should be credited to Bikerdude, while the remaining problems are all mine.
High-resolution player map (for printing, etc.):
Notes:
Erasing the Trail is intended to be an open-ended city exploration mission, where you can approach your objectives from multiple angles, and discover multiple solutions to complete them; some more straightforward, some more obscure.
Gerald Foxley is a rank amateur who can't pick locks. You will have to find alternate means to break into places.
There is no poll to rate the mission because I do not believe in them. Your comments are welcome in writing, however!
You can find my concept art in the PK4 file. These images obviously contain heavy spoilers.
This mission series predates, and is thus unrelated to the Penny Dreadful TV series.
Special thanks: 
to our testers, Aluminumhaste, Kingsal, Nbohr1more, Oldjim, Skacky and Premier; 
gigagooga for several new ambient sounds, and sound conversions (Fabrice Hautecloque from Ishar III, tension loops from Golgo 13: the TV series);
Yandros, Bikerdude and Goldchocobo for voice acting;
epifire! for custom models;
The Canon Texture project for texture work.