When exporting from Blender to TDM in .lwo format, it's necessary to set the material names to textures/darkmod/,,,,something.
 
If an object has a lot of textures it's going to be tedious to search the mtr files to get the right name. The same goes for applying textures to imported .lwo objects.
 
I wrote this plugin to make that task much easier.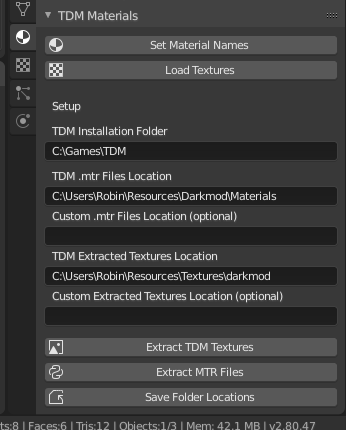 Version 2.8.0
Download:
Go to the GitHub page: https://github.com/R...aterial-Manager
Right click the .py file, then go to Save As and put it in some folder.
(Or go to Clone or Download and save it as a zip file to your computer).
 
The old version, for Blender 2.79, is here:
https://github.com/R...er-2.79-archive
(this is unlikely to be upgraded unless it causes serious problems)
 
It'll be interesting to see how this is in the wild.
Edited by R Soul, 13 March 2019 - 06:18 PM.