Is there something I have to do to enable the LOD system for an ordinary object (i.e a func_static)? I created a model (the higher poly version), then added an lod_1_distance of 300 and a model_lod_1 referring to the lower poly version, but in game I only see the higher poly version. I've also placed a "atdm:brazier_large01" entity which confirms that LODs are working when set up correctly.
Do I have to use an entity or use some other class?
I've tested the lod 1 version as an ordinary model and it shows up correctly in game.
Properties: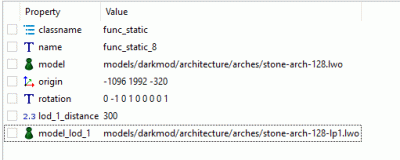 Edited by R Soul, 10 March 2018 - 12:49 PM.