I'd like to have my city guards operate as realistically as I can manage. I've looked over the wiki on triggers, stim/responses, signals and scripting and between some combination of those the system has gotta be possible. I'm a competent enough programmer that if I pour over the documentation I could eventually get something working, but it wouldn't necessarily be pretty and could really impact performance.  I'm up for a challenging project, but I'd like to start off in the right direction. It'll be great if anyone had helpful tips before I dig in. 
Here's an abstraction of the map that'll be useful when you hear the system.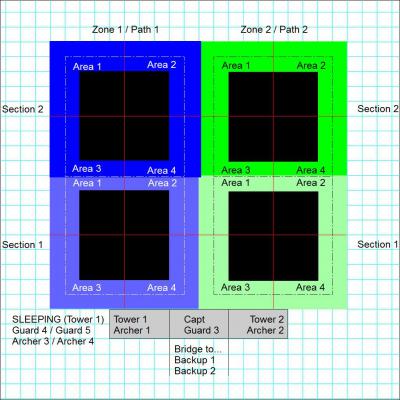 And here's an overview of the system I'm thinking about. 
START
Guard 1 patrolling Zone 1 via Path 1, each loop checks in with Capt
Guard 2 patrolling Zone 2 via Path 2, each loop checks in with Capt
(Say loop time is 5min +/- 1min)
STEP 1
Guard 1 doesn't check in with Capt. after 6min
When Guard 2 checks in, Capt. directs Guard 2 & 3 to patrol on Path 1
STEP 3
Next time Guard 2 & 3 check in w/o Guard 1, Guard 4 & 5 woken up and patrol Path 2
Archer 3 & 4 woken up and take position 3 & 4 (red squares)
IF PLAYER SPOTTED
During STEP 1: guard engages, if player escapes, guard returns to Capt. -> FULL ALERT STATUS
During STEP 2: one guard engages and the other runs to raise alarm -> FULL ALERT STATUS
During STEP 3: one guard engages and the other runs to raise alarm  -> FULL ALERT STATUS (really only has to run to nearest archer, right? then alarm can be yelled around?)
FULL ALERT STATUS
Whichever guard raises alert passes on the last known location. (Zone, Section, Area.) All guards move to that location and search (ideal would be they approach from different directions). Archer 4 drops back to archer 3. Capt. calls for Backup 1 & 2