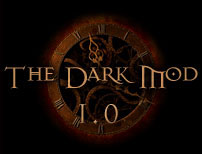 Broken Glass Studios is proud to announce the first public beta release of
The Dark Mod
, a medieval steampunk stealth game inspired by the Thief series.
The Dark Mod team started work on the project in September of 2004. Their goal was to take id Software's Doom 3 (id Tech 4) engine and completely transform the sci-fi / horror shooter into a medieval, steampunk, stealth experience.
With the release of The Dark Mod: Beta 1.00, we are offering the modding community a powerful, easy-to-use editing suite for creating stealth missions. All the assets and resources necessary to build playable missions are included, plus a customized editor called DarkRadiant. A branch of GTKRadiant, DarkRadiant has been designed specifically to cater to the needs of Dark Mod mapping.
In addition to the editing tools, the release also includes four playable missions (including a Training Mission) to help demonstrate the full potential of the mapping kit.
The Dark Mod is in a beta release stage at this time, which means that some minor bugs and incomplete features are to be expected.
To see screenshots, or to download The Dark Mod, please visit
http://www.thedarkmod.com/
. Or visit our forums at
http://www.modetwo.net/darkmod/
.
We hope you enjoy it!