Well, its not about
replacing
the ambient light method, I was actually wondering if the alternative method (of fixing a wide light to the player) was possible, for the reasons stated.
My first idea was to use a thin black fog to simulate distant objects being darker and harder to see than what is close by the player - this worked in a way, but slowed down my map considerably, so I unfortunetely HAD to let it go.
Consider how the artists in Thief 3 used atmospheric fog to decrease detail of the distant environment:
By replacing the blue with black, you can simulate surrounding darkness, but a lot more testing had to be done, and for performance issues, I didnt implement it.
Example of situations where actual darkness is beneficial/realistic/expressive:
There are many situations where having true black shadows are desirable. I had that in my own map, areas where physically there should be little to no light (and for dramatic reasons too), so info-location entities were used to make those areas pitch black, keeping the ambient light working elsewhere on most of the map, where you would expect "bounced light" to be present. That didnt however solve the problem of persistent light caused by the ambient world. Consider these web pictures of the mod (Im ignoring the fact that the gamma was increased in many of them):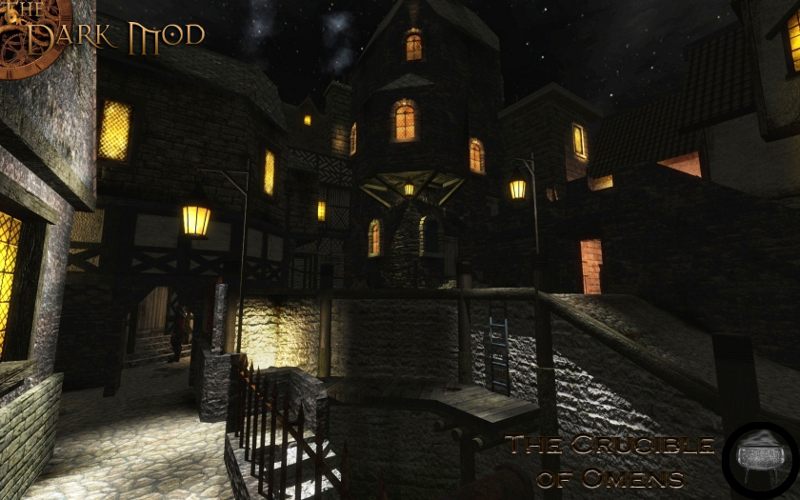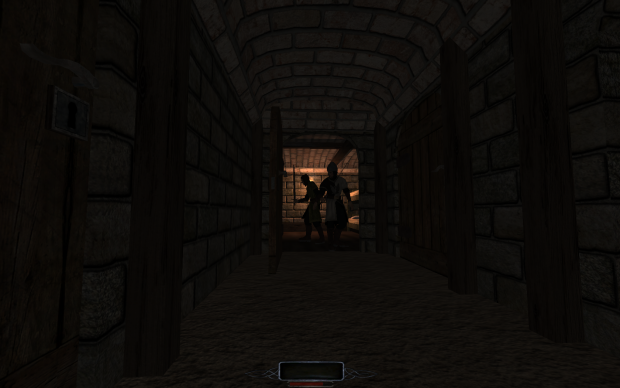 As we know, most of those shots are from excellent maps; the concession that has to be made to combat pitch black shadows and the lack of bounced light in Doom by using the ambient world is what causes the physically impossible perception of the
whole
environment, no matter the distance or proximity of objects to lights. Dynamic ambient lights whould be a brilliant feature; it adjusts the "bounced light" level by counting the light sources in a room, if you douse a couple of lights, the general level falls, etc; but it suffers the same problem, it applies to the whole space at once, so if you fire a little candle inside a huge cave, you'll literally be able to see everything from one corner to the other, even if its a mile away, and every tunnel connecting to it (at least, thats what I got in my crypt space when testing). For artistic and realism reasons, I thought it could be nice to test the simple Penumbra method and see how it works in TDM - I thought AI was blind to medium ambient light levels so it wouldnt make a difference for them, its too bad they use it to see objects. Even then, certain maps where that is not a factor could still profit from this alternative method, if its not that difficult to achieve (any horror themed map, like the Creeps for example).
Unfortunetely, the hack described here will only potentially work on maps with constant or no ambient light level, it seems... Maps with different location settings would be a problem, because the same binded "eye" light would be subtle for an area with medium ambient level, but quite bright for darker zones.
Edited by RPGista, 06 June 2012 - 02:35 PM.