Announcing the release of a new TDM mission--The Builder's Influence.
Mapping by Railgun. Story and readables by Springheel.
This mission continues the story of Corbin, the former smuggler first introduced in "The Thieves".
Download it here:
http://www.bloodgate...s_influence.pk4
http://www.fidcal.co...s_influence.pk4

Briefing:
"Whenever I attract a little too much attention in Bridgeport, I use some friendly smuggling lines to head north to Braeden. It's smaller than Bridgeport but still large enough that a visitor like me can go unnoticed. I've always been on good terms with the Cratchit Gang here, and for a small cut they set me up with a place to stay and some information on jobs in the area. Braeden is a great getaway for someone in my line of work; the watch is stretched thin and will usually look the other way for a small fee. With the constant threat of barbarian invasions on the minds of the people, a little domestic burglary tends to be overlooked. "
"Things have soured over the past few months, however. The Inquisition has come to Braeden. Suddenly there are armoured Builder guards everywhere, even on street patrol. A lot of the underground closed up and fled for greener pastures, and jobs have been drying up. I've decided it's time to head home to Bridgeport, but the Cratchit boys have asked me for a favour first. "
"There's a city Councillor by the name of Gerrard who is payed handsomely by the gang to overlook their smuggling activities. He writes forged tax registers and toll records for them among other things. Apparently the Inquisition has been paying a lot of attention to the city Councillors recently, and they've arrested Gerrard on suspicion of heresy. The Cratchit Gang is worried that they'll get ahold of Gerrard's forged records during the investigation; that would put their entire operation at risk. They need someone to break into City Hall after hours and get the tax records from Gerrard's office before they fall into the wrong hands. The gang is good at what they do, but they're smugglers. Breaking into City Hall is beyond them. "
"That's where I come in. "
"They've given me a map with Gerrard's office on it, so finding the tax records should be easy enough. I have a hunch that the city archives are worth a visit too; there might be some useful maps there. Of course, I'll help myself to some valuables along the way--enough to enjoy myself for a while when I get back to Bridgeport. I hear that Builders are patrolling the City Council halls now, so I'll need to be sharp. Night is falling...better get ready to go. "
Screenshots: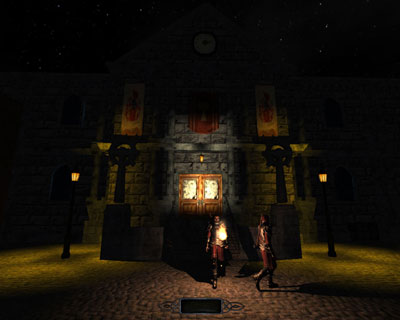 Full Size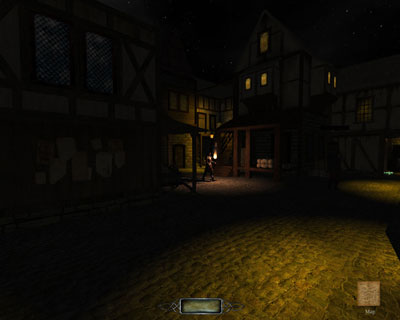 Full Size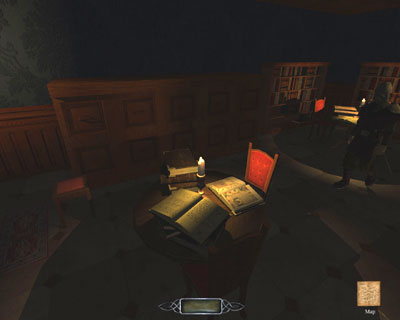 Full Size
Note that although this mission requires TDM 1.01 to play, don't expect it to showcase all of 1.01's new features. 98% of the map was completed before the release features were available.